Overview
Educational webinar hosted by DIR and sponsored by TASSSCC. A recording of the webinar will be available on Scott Burk's YouTube channel.
It's All Analytics: Separating the Hype from Reality

Tuesday, August 18 | 1:00 - 2:00 CDT via Webinar 
Professionals are challenged each day by a changing landscape of technology and terminology. In recent history, especially in the last 25 years, there has been an explosion of terms and methods that automate and improve data related decision-making and operations. One term, "analytics," is an overarching description of a compilation of methodologies. However, artificial intelligence (AI), business intelligence (BI), statistics, decision science, optimization, visualization, and other methods have important roles to fill in the process.Capturing data and making it available is only the first step. Empowering individuals with access so they can apply meaning and context for intelligent decision-making is the true goal. That is democratization of analytics.   Data literacy and analytics democratization are vital to a program's success. This presentation provides a '101' overview of the analytics landscape: where the basic pieces fit and why it is important for you to understand the impact of each.  It is not a technical talk or a 'hands-on guide' for some practice.  Content should be applicable for those who need a basic understanding of what the spectrum of analytics can do for their programs as well as dedicated data professionals or technologists who want to understand the broader picture.

AUDIENCE
Any public sector employees interested in the topic are welcome to attend. The topic would be of benefit to anyone (IT or program/business) involved in data management.

PRESENTER
Scott Burk, author of It's All Analytics!: The Foundations of Al, Big Data and Data Science Landscape for Professionals in Healthcare, Business, and GovernmentScott has been a practicing statistician, data scientist and analytics professional for over 25 years in the trenches across several business verticals.  He believes in lifelong education, graduating from Texas State, the University of Texas at Dallas, Baylor University, and Central Connecticut State University.  He has also taught and consulted with Texas A&M, Baylor, SMU, and CUNY. Scott works at TIBCO as an analytics architect and writes on the need for data literacy and creating successful analytics programs. LinkedIn.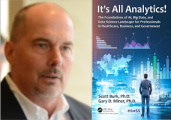 ADDITIONAL INFORMATION
  There is no cost to attend.   The Texas Department of Information Resources (DIR) is hosting this webinar.  DIR will award 1 hour of continuing education credit (IRM CPE, contact hour).  Contact joy.bryant@dir.texas.gov with any questions.  A recording of the webinar will be posted on Scott Burk's YouTube channel.DIR thanks TASSCC for supporting this educational program.